Reading
Reading Aims
To promote and encourage a life-long enjoyment and love of reading;
To ensure that every child becomes a fluent reader;
To equip pupils with the reading skills that enable them to know more, remember more and understand more with increasing independence;
To provide regular opportunities for pupils to read independently, out loud and to be read to;
To develop a broad range of reading skills that can be applied to a wide range of reading text types and genres across the whole curriculum;
To use reading as a 'passport to experiences, places and times' that our pupils may never experience;
To use reading to increase the vocabulary of our children;
To commit (finance and time) to providing pupils with a range of resources to stimulate their desire to read;
To create confident, independent readers;
To prepare pupils for the next stages of their education.
Progression of Literal Understanding and Retrieval
Progression of Inferential Reading Skills
Progression of Response to Text
Progression of Fluency and Phrasing
The Teaching of Reading Sequence
Teaching Sequence for Reading

Hook

Vocabulary/GPS

Model reading – '60 second retrieval'

Target readers – 'find and copy'

Reading on

Question type teaching (VIPERS)

Answer questions

Reflection/marking
Vipers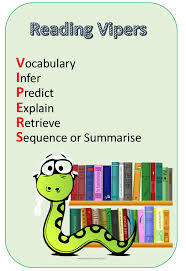 Key Stage 1
In Key Stage One reading skills are taught and practised using the VIPERS during whole class reading sessions.
| | |
| --- | --- |
| KS1 Content Domain Reference | VIPER |
| 1a draw on knowledge of vocabulary to understand texts | Vocabulary |
| 1b identify/ explain key aspects of fiction and non-fiction, such as characters, events, titles and information. | Retrieve |
| 1c identify and explain the sequences of events in texts | Sequence |
| 1d make inferences from the text | Infer |
| 1e predict what might happen on the basis of what has been read so far | Predict |
Key Stage 2
In Key Stage Two reading skills are taught and practised using VIPERS during whole class reading sessions.
| | |
| --- | --- |
| KS2 Content Domain Reference | VIPER |
| 2a Give/explain the meaning of words in context | Vocabulary |
| 2b retrieve and record information/ identify key details from fiction and non/fiction | Retrieve |
| 2c summarise main ideas from more than one paragraph | Summarise |
| 2d make inferences from the text/ explain and justify inferences with evidence from the text | Infer |
| 2e predict what might happen from details stated or implied | Predict |
| 2f identify/explain how information/ narrative content is related and contributes to meaning as a whole | Explain |
| 2g identify/explain how meaning is enhanced through choice of words and phrases | Explain |
| 2h make comparisons within a text | Explain |
Whole Class Reading Structure
Over the term we will cover fiction, non-fiction, poetry, picture books and short films. Types of text given are appropriate to the age and key stage of the children.
Children read during lessons in a variety of different ways. They may hear the teacher model fluent reading and then have time to reread the same extract themselves, they may read individually and feedback, work in groups, take turns in pairs or read aloud to the their peers.
Children are encouraged to provide evidence for their learning based on a text extract or a picture they have seen in the book. Where appropriate children are encouraged to use evidence from a range of different places within the text.
Recording and Assessment during VIPERS sessions
We encourage children to orally talk through their answers and ensure it is the best they can give before writing anything down. We also acknowledge it is good for children to also be able to formally record an answer. Children can do this in a variety of different ways such as discussing the answer first with peers and/or an adult and then writing their best answer, working individually and then editing their answer accordingly after discussion or orally discussing 1 or 2 of the questions and writing down the others working individually.
During this reading session teachers focus on specific children during the session, this may mean hearing them read individually whilst others are reading independently, in pairs or groups, discussing answers with those children and working one to one or within a group with them during a session whilst the others form an answer independently. Teachers can then assess these children based on NC expectations and how they are performing relating to the specific content domain.
'Live' marking within reading lessons
Research indicates that marking in the moment or 'live' marking allows pupils to have a deeper understanding of their own learning journey. In addition, it provides immediate feedback within the lesson and addresses any common misconceptions.
During a reading lesson, pupils are able to self-mark their own questions (in particular, retrieval type questions) after completing two or three questions, ensuring that they are on track within the lesson. Adult support can then be directed to pupils that need additional support or those who need to be further challenge.
Inference and explanation type questions are marked in more depth by the teacher at the end of the lesson.