Reading
Reading
Reading is our priority. There are many opportunities for our children to learn to read and to read to learn, every day. This is achieved by using a wide range of language rich texts. These opportunities include:
daily phonics lessons in EYFS and KS1
daily reading lessons in years 2 - 6
reading for pleasure
daily whole class story/poem time
'book talk'
Reading Lessons
Our 30-minute daily reading lessons are lively and engaging. Children are introduced to the new vocabulary that they will encounter in the text which is modelled by the teacher and then read by students. Quick retrieval and find and copy questions are asked before the children are taught how to respond to more complex elements of comprehension – inference, deduction, summarising, ordering events, comparing etc.
Accelerated Reader (AR)
Our library is organised in a way that enables children to choose texts with appropriate challenge. An online AR assessment provides us with a 'zone' from which the children can choose a book. After reading an AR book, children complete an online 'quiz'. Teachers use AR to monitor engagement and progression and to target interventions.
Celebration of Reading
Reading engagement is monitored by teachers, using individual Reading Records. We ask families to keep up-to-date records of daily reading experiences and teachers use these to record how many times children read each week. The expectation is that this is a minimum of five times. Every time a child reads, they are entered into a weekly class draw. We celebrate the winners of the weekly raffle in our greatly anticipated Celebration Assemblies. We have also introduced bi-termly Reading Raffles to encourage children to read a designated number of pages in a given time. The winners of the raffle in each class get to choose a brand-new book as their prize!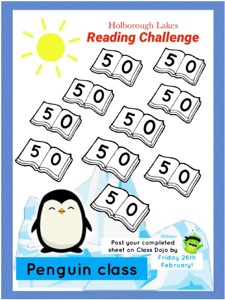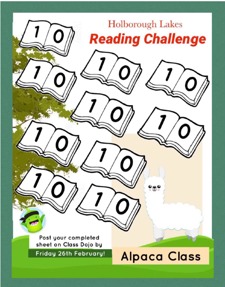 Reading interventions
We track the progress of each child on their journey to becoming happy, fluent readers. The lowest 20% of readers in each class are quickly identified each term and a clear action plan is followed to ensure that no child is left behind. Families are informed by letter, if their child is in need of reading support. They are advised how they can best support their child at home. Parents are informed on the progress their child has made. School interventions include:
PiXL therapies
repeat reading
daily reading with an adult
echo reading
focus groups within reading lessons
pre-reading opportunities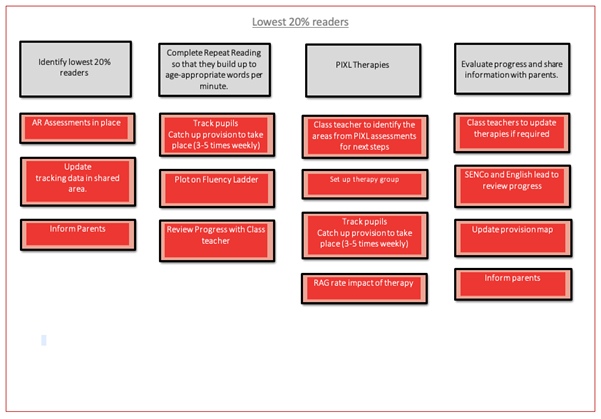 Reading Progression Documents
Progression of Literal Understanding and Retrieval
Progression of Inferential Reading Skills
Progression of Response to Text
Progression of Fluency and Phrasing
The Teaching of Reading Sequence
You can also visit the Book Trust website for some great tips around reading with your child.
Key Stage One
Key Stage 1
In Key Stage One reading skills are taught and practised using the VIPERS during whole class reading sessions.
| | |
| --- | --- |
| KS1 Content Domain Reference | VIPER |
| 1a draw on knowledge of vocabulary to understand texts | Vocabulary |
| 1b identify/ explain key aspects of fiction and non-fiction, such as characters, events, titles and information. | Retrieve |
| 1c identify and explain the sequences of events in texts | Sequence |
| 1d make inferences from the text | Infer |
| 1e predict what might happen on the basis of what has been read so far | Predict |
Key Stage Two
In Key Stage Two reading skills are taught and practised using VIPERS during whole class reading sessions.
| | |
| --- | --- |
| KS2 Content Domain Reference | VIPER |
| 2a Give/explain the meaning of words in context | Vocabulary |
| 2b retrieve and record information/ identify key details from fiction and non/fiction | Retrieve |
| 2c summarise main ideas from more than one paragraph | Summarise |
| 2d make inferences from the text/ explain and justify inferences with evidence from the text | Infer |
| 2e predict what might happen from details stated or implied | Predict |
| 2f identify/explain how information/ narrative content is related and contributes to meaning as a whole | Explain |
| 2g identify/explain how meaning is enhanced through choice of words and phrases | Explain |
| 2h make comparisons within a text | Explain |
Accelerated Reader
Information for parents

Accelerated reader is a system used by the school to encourage the development of reading skills. Elements for reading success using Accelerated Reader

1. Determine reading level - Children take a short reading test, the result if which determines the current reading ability and suggests a range of book levels. This will provide children with books that will keep them challenged without causing frustration.

2. Book selection - Once the children know their reading range, they are able to choose books within the range that interest them from the books available in our library.

3. Taking the AR quiz - Once children have read their book and are fully comfortable with the content, they are able to take online comprehension quiz or vocabulary test. Once the quiz has been completed the children receive instant feedback on how they have done, including the opportunity to review inaccurate answers. To pass a test children need to achieve 60% accuracy?

4. Target setting - Each child is set a target to aim for. As these are achieved they receive online awards as well as physical certificates to show their progress.

Children's reading achievements are celebrated within the school in many ways, including classroom displays to track and show progress, to the issuing of Ready Reader certificates during weekly celebration assemblies.

For more information, please follow the link below:

https://www.renaissance.com/services/parent-resources/reading-literacy/
Reading for Pleasure